GAS METERS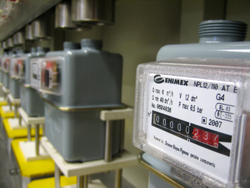 Application
The ENIMEX Diaphragm Domestic Gas Meter is a compact residential meter designed to measure accurately volumes of Natural Gas in apartments and households.
Types
Class G2.5 – Class G4 – Class G6
Basic Features
The ENIMEX Diaphragm Gas Meters are compact, light weight, and they work on high metrological performance.  They are 100% corrosion proof and the basic body material is steel.
The have synthetic diaphragm, which is made of the best quality synthetic materials, with high dimensional stability, excellent chemical resistance, against effects of measured gases, and long term durability.  Other important characteristics of the meters are the low operating noise level, the high measuring accuracy the low pressure loss.
The basic model is predisposed for external pulse emitter.  The other options are the installation of low frequency pulse emitter, the AMR (remote Automatic Reading System) and the data management.
The fine error curve adjustments, controls and tests are made in our special designed Calibration Area.